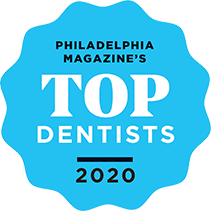 At The Perio Group, we are proud to provide some of the most acclaimed and respected dental practitioners in the country. There are so many things people need to think about when they are choosing a periodontist, and we understand the need to feel comfortable with the choices you make. This is one of the key reasons why you should certainly be checking us out, and Dr. I. Stephen Brown is the leading reason you should be looking to get in touch with us today.
Dr. Brown is a leading periodontist who has the distinction of being awarded Philadelphia Magazine Top Dentist for 11 years in a row! This goes to show how talented and well-respected the man is, and will help you to feel at ease about choosing The Perio Group as a way of taking care of your dental health. Let's look a little closer at this prestigious award and the man who continues to win it.
Top Dentist Award
Every year Philadelphia Magazine compiles a list of the leading dentists and dental professionals in the area. Those who have made an outstanding contribution to the community, and have proven to offer a reliable, dependable, and professional service to their patients. Dr. Brown was named by the magazine as being Top Dentist in the Field of Periodontics, claiming the award for a staggering 11th year running! This prestigious accolade is used to determine excellence in the field and is a great reference to use when looking to find the right dental practice for you.
What Makes Dr. Brown Stand Out?
These are not the sorts of awards that are won by just anybody, and it is important to make sure you understand what it takes to secure an award like this. So, what is it that makes Dr. Brown stand out and receive this acclaimed accolade on such a frequent basis? Well, one of the key things is his skill set, combined with his status as a leading educator in the dental field. This is what has led to him being nominated by his fellow dentists so many times. His contributions to the field, including sponsorship of several educational programs, have elevated his status, and he is held in high regard by so many in and out of the dental field.
The Team Behind the Man
Behind every great dentist, there is a wonderful team of friendly, knowledgeable, helpful professionals on hand to help make patients feel at home. At The Perio Group, we pride ourselves on having a strong and talented team backing up and supporting Dr. Brown. We believe that every patient is entitled to receive the absolute best dental care they possibly can. And our dedicated team can work with you to determine exactly what you want to achieve, as well as focusing on the best ways for Dr. Brown to help treat you.
There are a lot of factors that play a role in winning such an award which shows what a talented periodontist Dr. Brown is. Contact us to schedule an appointment today!