LANAP is a patented laser treatment for gum disease approved by the FDA in 2004. This procedure reduces pockets between the gums and teeth where bacteria that cause gum disease tend to thrive. The laser assisted therapy accomplishes this by killing the bacteria and closing the gap between the gums and teeth. This creates an ideal situation where new bone and connective tissues can regrow on root surfaces that were diseased prior to treatment. LANAP is the best treatment available today for eliminating infection and painlessly regenerating lost tissue.
Trust Your Oral Health to Top Periodontist,
Dr. Stephen Brown.
Successfully placing dental implants since 1985.
Benefits of Laser Gum Treatment
Gum treatments have several benefits including reducing inflammation and irritation, lowering the risk for heart disease and other serious ailments, and boosting oral health. LANAP differs from traditional gum treatments like osseous surgery and conventional periodontal surgery in several ways. Compared to other gum treatment methods, LANAP has the following advantages and benefits:
Minimally invasive; no cutting or suturing in most cases
Less discomfort during and after the procedure; virtually painless
Shorter procedure and recovery time; typically patients feel good enough to return to work afterwards
How the Procedure is Performed
LANAP typically requires two sessions, which each take two hours. One session is used to treat one side of your mouth while the other session handles the other half. Prior to the procedure, a consultation appointment is normally scheduled to explain how laser gum treatment works and to give you a demonstration. During this time, the dentist can identify the diseased gums by their darker pigment. Once a session has started for LANAP, a local anesthetic is administered to prevent any patient discomfort.
After the anesthetic has kicked in, a probe is used to indicate the depth of the pocket. By using a tiny laser between the tooth and gum, the infection is cleared away. Special tools can then remove any buildup to the root surface. This leaves behind only healthy gum tissue that can now re-bind to the tooth. The heat from the laser also creates a blood clot to prevent bacteria from re-growing in the same area.
LANAP v. Other Laser Gum Treatment Options
The LANAP Protocol is clinically proven to be effective at reducing pocket depth between gums and teeth and so far is the only laser procedure approved by the FDA to do so. There are of course imitation procedures that are cheaper, but to be sure you're getting the best results for your gums, oral, and overall health, it's important to know your periodontist is using the authentic LANAP Protocol. Click here to find out how to make sure you're getting the real deal.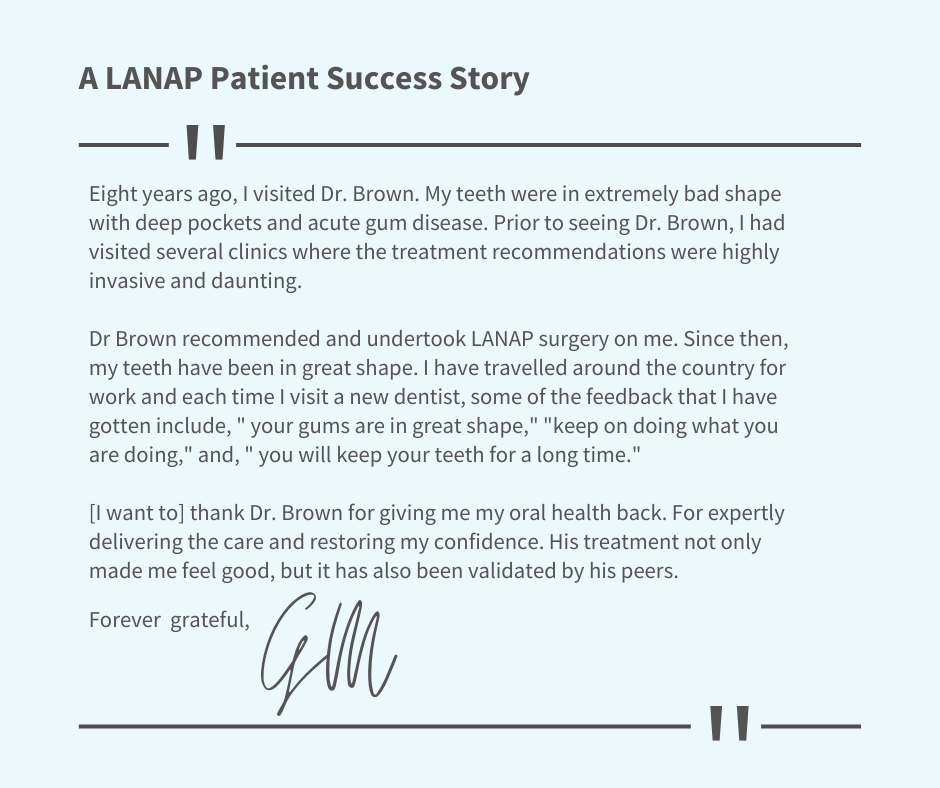 Make An Appointment
If you think laser gum treatment is right for you or if you have any questions about LANAP, please contact us to learn more or schedule an appointment. The team at The Perio Group is dedicated to providing patients in the Philadelphia area with the utmost care in periodontics.