How soft tissue laser has revolutionized periodontal care
Dentists and periodontists are constantly looking for more effective and less invasive methods to care for their patients. Laser dentistry provides a long step toward this goal. But the gums and other soft tissues of the mouth require a very specialized laser. The Millennium PerioLase laser is designed specifically to treat these soft tissues. In practice, it provides comparable or better results than traditional methods. Dr. I. Stephen Brown was the first periodontist in Philadelphia to use Millennium technology for laser gum treatment.
Trust Your Oral Health to Top Periodontist,
Dr. Stephen Brown.
Among the first to offer laser gum disease treatments.
Benefits of soft tissue laser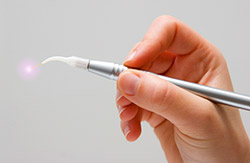 Images that come to mind of laser may not be something you want to happen to your gums, but the laser Dr. Brown uses has been carefully designed and tested to be safe for the delicate gum tissues. In fact, the primary reason lasers are replacing old techniques is because they are so much easier on the tissue than cut and stitch treatments. Because laser instantly cauterizes incisions, it heads off complications and dramatically reduces healing time for patients. Here are some of the benefits soft tissue laser provides over traditional periodontal treatment methods:
Procedures are often faster
Less bleeding during procedures
No need for stitches
Preserves healthy tissue better
Lower risk of infection
Shorter recovery time
Often negates the need for follow-up appointments
Laser gum treatment
The most common and most advantageous procedure Dr. Brown uses laser for is treatment of gum disease. LANAP is the first, and so far only, laser gum treatment approved by the FDA. The procedure starts with cleaning the narrow gaps between the teeth and the gums where bacteria tend to gather and cause infection. Then the dentist places the laser's tiny fiber optic tip into that gap to target bacteria and infected tissue. The Millennium laser is designed to kill infection and leave healthy tissue intact. When the procedure is finished, the gums are able to reattach to the roots of the teeth to prevent future infection. A similar procedure called LAPIP can often save dental implants where the gums around them have become infected.
How can laser dentistry help me?
Besides LANAP and LAPIP, there are many uses of soft tissue laser that can provide the same kinds of benefits over traditional methods. For some procedures, like gum depigmentation, the results Dr. Brown can achieve with the soft tissue laser were unimaginable before this technology came about. Here are some of the laser dentistry procedures Dr. Brown offers in his Philadelphia office.
Gum Depigmentation
Biopsies Excision and Incision
Hemostatic assistance
Fibroma Removal
Frenectomy
Frenotomy
Gingivectomy
Gingivoplasty
Sulcular Debridement
Vestibuloplasty
Schedule your appointment today
As a pioneer in laser periodontal treatment, Dr. Brown is uniquely qualified to provide LANAP and other laser dentistry procedures to benefit his patients. The days of cutting and stitching in periodontal care are over. If you are experiencing symptoms of gum disease or are concerned about changes in the soft tissue of your mouth, contact The Perio Group in downtown Philadelphia for the most advanced soft tissue laser dentistry available.