At The Perio Group we believe in the value of pairing proven success with innovative new technology. With a keen eye on rapidly developing dental technology, we seek to constantly identify effective new solutions and successfully apply them, to the benefit of our patients. One such dental break-through is LANAP, or the laser assisted new attachment procedure, used to treat the effects of periodontal disease.
Trust Your Oral Health to Top Periodontist,
Dr. Stephen Brown.
Committed to genuine personalized patient care
When a patient develops gum disease, the gum tissue becomes inflamed and infected, creating gaps between the teeth and gum tissue, where bacteria continue to grow and cause further and deeper damage. Traditionally, this was treated using a surgical procedure. As a pioneer periodontist in Philadelphia, Dr. I. Stephen Brown was the first to learn and apply the more advanced LANAP in Philadelphia. As such, he has had many years to master this technique and its application on many of our patients. LANAP is less invasive and more precise, and Dr. Brown is eager to provide its many benefits to his patients.
How Does it Work?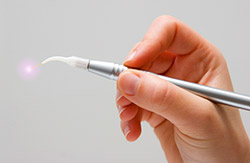 We use the PerioLase laser, created by Millennium Dental Technologies, to treat your gum disease. This laser targets only the diseased tissue in your periodontal pockets, leaving healthy tissue intact. It eliminates the bacteria that are found in the pockets between teeth and gums, and encourages the reattachment of the gum tissue to the tooth root. FDA approved since 2002, the PerioLase laser has been used successfully in countless procedures across the nation.
Request An Appointment (215) 735-3660
The Benefits of LANAP
After gum disease has progressed too far to be treated through simple oral hygiene, LANAP becomes one of the best treatment options. Because of the ease and control the laser provides, we can gently and thoroughly rid your gum tissue of infection and decay, leaving your mouth in an ideal state for successful regrowth and healing. The laser is less invasive than a scalpel would be, meaning that you spend less time in the chair, and less time recovering at home. The procedure involves minimal discomfort, usually requiring no more than an over-the-counter anti-inflammatory medication. Most of our patients are back to normal within just a few short days. Many patients who would be ineligible for traditional periodontal surgery still qualify for the LANAP procedure because of the way the laser causes the blood to clot, which enables the site to heal without an excess of blood loss or the entry of infectious bacteria into the bloodstream.
With Dr. Brown's background in periodontics, you can rest assured that you are in excellent hands. Each case is unique and we understand that you might have concerns. If you have any questions, or want to determine whether you are a candidate for LANAP, please contact us today!