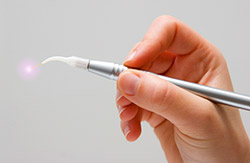 As a top researcher in laser periodontal therapies, Dr. I. Stephen Brown has been asked to present his work at the 6th Annual Scientific Session presented by the American Academy of Oral Systemic Health. Dr. Brown's presentation topic is "The Future of Lasers in Periodontal Therapy: Science, Hype or Snake Oil," and he will be talking about the research, myths, and truths behind this exciting new therapy. However, because this event is closed to the public and meant for healthcare and dental professionals, Dr. Brown wants to make sure that his patients understand the benefits of laser dentistry, the controversy surrounding this new tool, and why Dr. Brown is a staunch supporter of lasers in periodontal treatment settings.
Trust Your Oral Health to Top Periodontist,
Dr. Stephen Brown.
Successfully placing dental implants since 1985.
How Laser Dentistry Works
Lasers work by harnessing, magnifying, and controlling light wavelengths to create a cutting or curing effect. In dentistry, lasers can be used for a vast array of different treatments, ranging from simple cosmetic procedures to the advanced treatment of complex periodontal disease.
In the dental office, there are four main types of dental lasers: Erbium lasers, Nd:YAG lasers, Diode lasers, and CO2 lasers. Each type of laser is designed to harness different wavelengths of light, which is why some lasers are more powerful than others. Each laser offers a different range of capabilities, and a thorough understanding of the implications of each piece of equipment is essential for the proper use of the tool. For example, erbium lasers are capable of removing both hard and soft tissue, while Nd: YAG lasers are mainly used for tissue debridement and the creation of blood clots within the gingival pocket.
Benefits of Laser Dentistry
When applied properly by dental professionals, laser dentistry offers a slew of benefits including faster dental treatment, protecting healthy tissues, less bleeding, less anxiety for patients, and less need for anesthetic during procedures due to reduced discomfort.
Laser Dentistry Treatments
There are a wide array of laser dentistry treatments available, depending on which types of lasers dentists and periodontists have access to. Laser dentistry treatments include the removal of tooth decay, diseased tissues, and even oral lesions. Lasers can also be used for cosmetic purposes, such as teeth whitening or the removal of excess gum tissue for gingival contouring.
One of the most powerful benefits of laser dentistry is the treatment of gum disease and periodontitis. Procedures such as LANAP are used to remove diseased tissue inside of the gingival pocket while simultaneously sanitizing the space. LANAP is also minimally invasive, improving patient comfort and speeding recovery time.
Controversy Surrounding Laser Dentistry
Although dental lasers have been in use since 1994, there are still people who take issue with lasers being used in dentistry. Some researchers wonder how effective lasers are at eradicating bacteria and improving the attachment between teeth and ligaments, while others think that additional research is needed before laser therapy is considered safe in the dental office.
However, rest assured. The lasers currently used in dental offices across the nation have been cleared by the FDA and their usefulness in dental procedures is acknowledged by the ADA. While there is always more research to be done, the results we have seen so far are positive and exciting.
The Oral/Systemic Connection
The theme of the AAOSH Conference is inflammation and its relationship to chronic and, in some cases, life threatening diseases. Periodontal disease is highly inflammatory in nature, and been associated with cardiovascular disease, stroke, diabetes, lung disease and certain cancers. Pregnancy complications such as low birth weight babies and premature delivery have been frequently reported. Recently an association with Alzheimer's disease received significant attention, as well as hypertension. For these reasons, innovative and effective treatments for periodontal disease have far-reaching implications. You can find a great deal of information on this topic from the website of The American Academy of Periodontology at www.perio.org.
Learn More About Laser Dentistry
If you are interested in learning more about laser gum surgery in Philadelphia, contact us to schedule an appointment with Dr. I. Stephen Brown today. After carefully evaluating the health of your teeth and gums, Dr. Brown can talk with you about which laser treatments could improve your smile.
Request An Appointment (215) 735-3660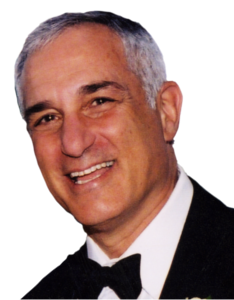 Dr. I. Stephen Brown is one of the foremost researchers in the field of laser dentistry. As one of the first periodontists in Philadelphia to use laser dentistry when it first became commercially available, Dr. Brown has the experience necessary to conduct laser-assisted procedures with the finesse of a true professional. As a Diplomate of the American Board of Periodontology, a fellow of both the American and International Colleges of Dentists, a fellow of the Academy of Osseointegration, and a Diplomate of the International College of Oral Implantologists, Dr. Brown continues to follow laser research closely to understand patient risks, benefits, and improved techniques.