StellaLife VEGA Oral Care Recovery Kit:  Homeopathic Oral Pain Management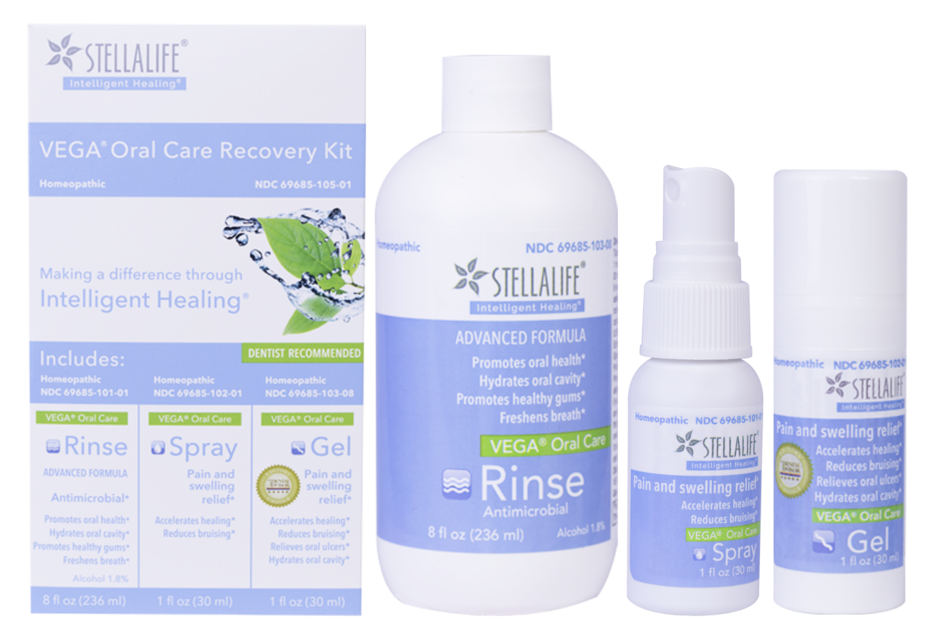 What if you could reduce your need for narcotic pain medications and steroids after your dental surgery? What if you could rely on a homeopathic approach which minimizes your discomfort and speeds your recovery? That's exactly what Stellalife VEGA Oral Care Recovery Kit provides.
This product, the result of years of research, is a "breakthrough homeopathic medicine formulated as adjunctive therapy for postsurgical treatment which has been shown to significantly reduce, and in some cases, completely eliminate the need for pain medications.
Trust Your Oral Health to Top Periodontist,
Dr. Stephen Brown.
A dentist who teaches other dentists
What does that mean to you? It means that you have a proven alternative to traditional, often painful recovery from oral surgery. It means you can be more proactive, taking charge of your recovery from dental procedures, using a healthy alternative to conventional medicine. Just the fact that one can eliminate strong pain medication with numerous unwanted side effects, is more than enough reason to recommend this approach.
Dr. I. Stephen Brown is routinely providing StellaLife Vega Oral Care Recovery Kits to his patients to minimize pain and support rapid healing.
Treatment
The Stellalife VEGA Oral Care Recovery Kit consists of the natural spray, award-winning gel, and rinse. The spray is applied under the tongue. The gel is a topical application. The antimicrobial rinse is a soothing mouthwash. The kit can be used for all dental surgical procedures such as bone and tissue grafting, extractions, dental implants and more.
It is professional strength and highly recommended by dentists and hygienists. This treatment recovery kit is recommended for adults and children over 6 years of age. You start 3 days before the surgery or dental procedure to increase to therapeutic levels by the time of the surgical procedure.
Continue for 7 days after the procedure. Applying 3-4 times per day after meals. Avoid drinking or eating for at least 20 minutes after applying treatment. It is best if all three products are used at the same time in the order outlined.
Benefits
This recovery kits provide many benefits including:
Accelerates healing
All-natural formula, (homeopathic)
Easy to use
Significantly relieves pain, swelling and bruising
Relieves oral ulcers, dry mouth, cold sores, dry sockets, denture irritation and mucositis
Maintains oral health and wellness
Hydrates the oral cavity
Promotes healthy gums
Freshens breath
Can be used Long-term
The properties of StellaLife are so unique and effective, the product was awarded Editor's Choice, the highest distinction given by the THE DENTAL ADVISOR  (see full report here).
Consultants and dentists had this to say about the gel which is contained inside the recovery kit:
"Patients loved that it is homeopathic."
"We heard frequently that it worked better than any other product for persistent oral ulcers."
"Very quick relief of discomfort in the mouth."
"We successfully used it to treat erosive lichen planus for multiple patients." (lichen planus is an ongoing inflammatory condition that affect mucous membranes inside your mouth)
"It was the first time I have ever had patients ask for more of a product just to have it around the house in case they needed it in the future"
"My patients loved it."
The response to this product has been excellent. People are delighted to find new and natural ways to manage postsurgical pain and recovery. Speedier healing and eliminating the need for strong pain medications seem to be a consistent response.
Real Life Experiences
Here are some examples from dentists using the recovery kit in their practices.
"I performed a series of case reports to evaluate the effects of StellaLife's VEGA Oral Gel and Rinse as adjunctive therapy…Healing was faster on the VEGA treated side and took only 1 week; in comparison, it took 1 month to heal on the control side. My patients unanimously reported having less problems with the VEGA treated side, recovered more quickly when compared to the controlled side and on average required fewer narcotic pain medications. We have yet to uncover the limitations of this product."
–Dr. Jason Stoner, Periodontist
"StellaLife's VEGA Oral Care is the best product we have used for post-operative discomfort in the last 13 years."   
–Dr. William Carter, Periodontist
Cutting-Edge Treatment
Dr. Brown's introduction of the StellaLifeRecovery Kit is another example of his unconditional commitment to provide minimally-invasive treatments to his patients. He is continually adopting methods to improve comfort and enhance the overall treatment experience. His goal is to minimize pain and ensure his patients recover as quickly as possible using natural solutions. Dr. Brown strives to create an positive experiences for his patients and is always looking for new and innovative ways to do so.