Cone Beam CT Imaging: The New Standard in Diagnosis and Treatment in Dentistry
There are some technologies that improve dental care so much over "traditional" methods that it makes it hard to justify a dentist not adopting the new way. Cone beam CT scanning is one of those technologies. It assists in diagnosing and treating a variety of ailments with unprecedented confidence. Once again, Dr. I. Stephen Brown was a pioneer in offering the benefits of this technology to his patients in Philadelphia.
Trust Your Oral Health to Top Periodontist,
Dr. Stephen Brown.
A dentist who teaches other dentists
Benefits of cone beam 3D imaging in dental care:
More accurate diagnosis
Faster and more precise treatment
Reduces the chance of unexpected events during treatment
Less exposure to radiation
Often eliminates the need for multiple visits
Easily shared with other doctors for treatment collaboration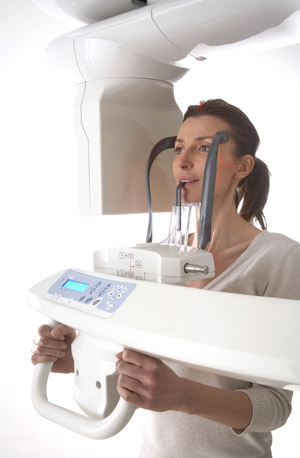 Introducing the CS 9300 3D Imaging System
Dr. Brown uses the CS 9300 cone beam CT scanner to get a crystal-clear image of a patient's jaw before commencing treatment. The 3D image not only gives Dr. Brown unmatched visualization of anatomical detail for more accurate diagnosis, but becomes a virtual model for precise treatment planning. It is ideal for placing dental implants, removing impacted wisdom teeth, pinpointing infected tissues, and many other dental care uses.
The cone beam CT imaging process is faster than conventional CT scanner processes. Additionally, having the CS 9300 scanner on-site in our Philadelphia office means we can avoid sending patients to a separate facility as with conventional CT scanning. This means you can avoid hassle and get the treatment you need faster.
Our cone beam imaging system uses a lower level of radiation than traditional CT equipment. It also has an increased ability to limit the radiation to the specific area we need to image. CBCT scanning combines these advantages with quick image capture times to offer detailed imaging with as little radiation exposure as possible, a big advantage over conventional CT scanners.
3D imaging v. X-ray
Traditional two-dimensional X-rays still have a place in modern dentistry, but in many situations, a high-resolution 3D image can be much more beneficial. The CBCT system gives us the best of both worlds. We can still capture standard and panoramic two-dimensional X-ray images, but we can also produce detailed 3D images of your teeth and jaw, giving us exactly the tool for the job in any situation.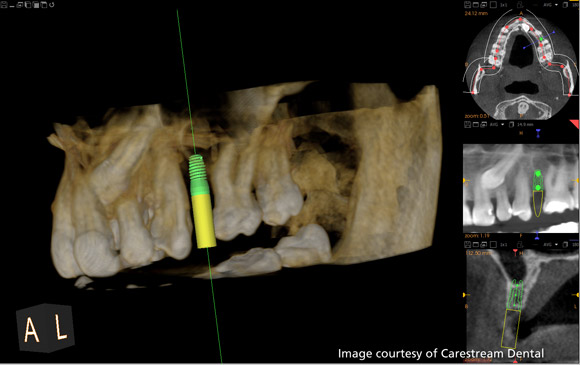 Using these precise 3D images, we're able to explain your situation and any needed treatments in a visually oriented way that you can easily understand. As an analogy, would you rather use a world map or a globe to teach somebody about how the earth's axial tilt causes the seaons? Flat images are great—and even preferable—in some circumstances, but 3D imaging can literally add a lot of depth to our analysis in other situations.
At this time, cone beam is not only "state of the art," but represents the standard of care! It is unconscionable that anyone is placing implants without utilizing 3D imaging. It is also indispensable in the diagnosis and treatment planning of commonly found forms of pathology.
Guided dental implants
As mentioned before, this system has many applications for improved diagnosis and treatment. One of the most innovative uses is guiding the placement of dental implants. Dr. Brown can use the scanner to get a detailed image of your jaw. This can tell him if bone structure is sufficient to support implants or if bone grafting is needed. It also shows the location and proximity of adjacent teeth, nerves, etc. Combining the 3D image with advanced software, he can then virtually place the implant in the ideal position in your jaw. This model can then be used to create a physical guide that he'll place in your mouth before surgery to recreate the virtual plan. This allows for less time in the chair and better placement of the dental implant. Read more about guided dental implants.
Can cone beam help you?
3D imaging is as easy as an x-ray but provides much greater detail for improved medical care. This means there are many ways it can benefit patients. Especially if you are considering getting dental implants in the future, ask Dr. Brown if the cone beam scanner can help you. Contact The Perio Group in downtown Philadelphia today.