For most patients, dental implants require a simple, minimally-invasive surgical procedure. Dr. Brown can complete each step in his Philadelphia office. With little or no pain following the process, you'll be able to resume your lifestyle with a fully functional and beautiful prosthetic tooth or denture. Also find out why a periodontist is best qualified to give you dental implants.
Trust Your Oral Health to Top Periodontist,
Dr. Stephen Brown.
With over 40 years of experience in placing dental implants.
Step 1: Placement of Implants
Your dental implants are gently placed within your jawbone. The jawbone has no nerves. No nerves… no pain! What used to be a two stage surgical procedure taking several months, has now been simplified from two procedures to one. Once the implants are placed, they bond to the jawbone in a matter of weeks. You should be able to function normally and eat a normal diet during this time. While the implants are fusing to the bone, your dentist is simultaneously creating your new replacement tooth/teeth.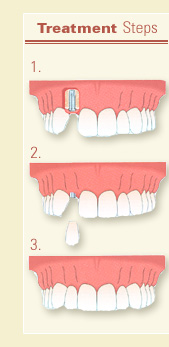 Step 2: Post attached
After the implant has bonded to the jawbone, the second phase begins. Dr. Brown will attach small posts which act as attachments for the artificial teeth. When the teeth are placed, these posts are invisible. The entire procedure generally takes less than 90 days. Most patients experience virtually no disruption in their daily routine.
Step 3: Placement of New Teeth
A single prosthesis (crown) is used to replace one missing tooth – each tooth attaches to its own implant. However, a fixed bridge can replace two to four teeth with as few as two implants, one at each end.
With adequate planning and a sufficient number of implants, all the missing teeth in your upper or lower jaw can be easily replaced. The number of dental implants varies depending upon whether the teeth are fixed and permanent or removable. A removable prosthesis is secured by attaching it to as few as two implants, whereas a fixed prosthesis requires additional implants, is permanent, and only be removed by the dentist.
Dental Implants: A natural treatment option for missing teeth
Dr. Brown has helped to pioneer new and improved implant techniques that allow some candidates to have implants immediately placed and receive their new teeth the same day. Ask us about these innovative methods. Contact Dr. I. Stephen Brown to schedule a consultation.