Treatment for Gum Recession in Philadelphia
Dr. Brown is a staunch advocate of therapies that provide effective healing the least invasive way possible. That's why he was the first periodontist in Philadelphia to offer the Pinhole Surgical Technique™. This non-invasive treatment for receding gums was developed as an alternative to traditional cut-and-suture gum grafting techniques.
Gum recession is a serious condition that can result from periodontal disease, over vigorous brushing, or injury. It entails the loss of gum tissue, which typically leads to loss of bone structure surrounding the teeth. The first symptom of receding gums is often tooth sensitivity to cold and heat. If not effectively treated, gum recession can lead to tooth decay and even tooth loss.
Trust Your Oral Health to Top Periodontist,
Dr. Stephen Brown.
The first doctor in Philly to offer the Pinhole Surgical Technique.
The Old Way of Treating Gum Recession
Traditional gum grafting takes a strip of soft tissue from a patient's palate and inserts it under a raised flap of receded gum tissue. The procedure is generally effective for restoring a healthy gumline, but it requires a good deal of cutting and stitching. It's a painful procedure that can take patients several weeks to completely heal.
The New Pinhole Surgical Technique™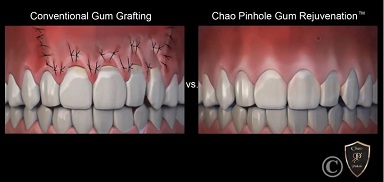 With the Pinhole Surgical Technique™, Dr. Brown uses a needle to make a small "pinhole" in the gum tissue. He uses specialized instruments to loosen the gum tissue, then carefully reposition the gums to cover exposed roots. Benefits of this advanced
treatment for receding gums include:
No scalpels
No stitches
Less discomfort following the procedure
Faster healing time
No need to graft tissue from other areas of the mouth
Long lasting results with a natural looking gumline






Dr. Brown is experienced in many therapies for gum disease and receding gums. He will be happy to evaluate your case and let you know if you are a candidate for the Pinhole procedure, or if some other treatment would be right for you.
Praise from Dr. Chao
As well as using the Pinhole procedure in his own practice, Dr. Brown actively encourages other periodontists to learn it. In January 2015, he invited Dr. Chao to a meeting of the North American Society of Periodontists to speak about the procedure. Dr. Chao later wrote to Dr. Brown:
"It was an exceptionally warm, fabulously run meeting, the like of which I … do not recall ever experiencing.
Your eloquent introduction and your support throughout the meeting were very influential in generating the high interest so many of the members showed in the Pinhole Surgical Technique. We expect many of them to come to Alhambra in the coming months."
-John Chao, D.D.S.
Creator of the Pinhole Surgical Technique