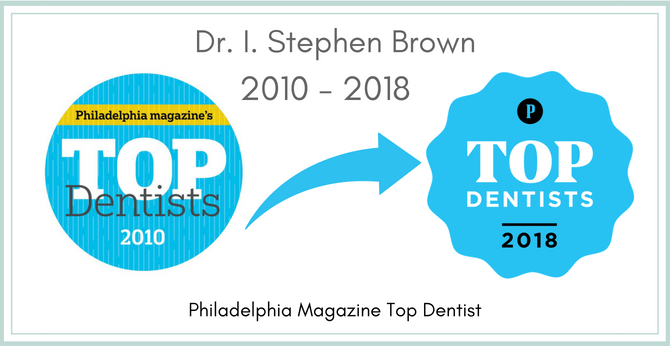 The Perio Group is pleased to announce that Dr. I. Stephen Brown was recognized as one of Philadelphia Magazine's Top Dentists in 2018. Philadelphia Magazine has other experienced dentists in the area send in letters of recommendation, nominating their dental peers for a job well done throughout the year. This has been the 8th year in a row that Dr. Brown has been awarded this honor from Philadelphia Magazine, and he is pleased and excited to be nominated again for this prestigious award.
This year, Dr. Brown was up against 5,200 votes from 532 dentists throughout the local area. The votes were narrowed down to 20 dentists based on specialty, and chosen by a board of elite dentists. The organization only accepts nominations for dentists who are respected by their peers, and who have devoted a lifetime to care, so the competition was tough! But it was no surprise to us that the talented and caring Dr. Brown was nominated for such an award again.
With expertise in dental implant procedures, Dr. Brown is one of the original leaders in the Periodontal field. In fact, Dr. Brown was one of the first dental professionals in the Philadelphia area to master (and perform) the revolutionary (and minimally invasive) LANAP procedure on the patients that needed an effective treatment for severe gum disease.
Dr. Brown is known throughout Philadelphia for his expertise in the dental field, and was even a featured speaker at the 103rd meeting for The American Academy of Periodontology. He spoke on a variety of topics including the The Future of Lasers in Periodontal Therapy: Science, Hype or Snake Oil?. Because of his dedication in regards to the dental field, Dr. Brown is often involved in dental summits and such in his spare time. When you visit The Perio Group, you can rest assured that you are being treated by someone who actually loves what they do!
If you are looking for gum disease treatment, or just regular and effective dental care, visit The Perio Group in Philadelphia, Pennsylvania. The Perio Group is conveniently located so citizens ranging from Main Line, PA to Wilmington, DE have easy access to some of the very best dental care in the area. Contact us to schedule your consultation appointment today!