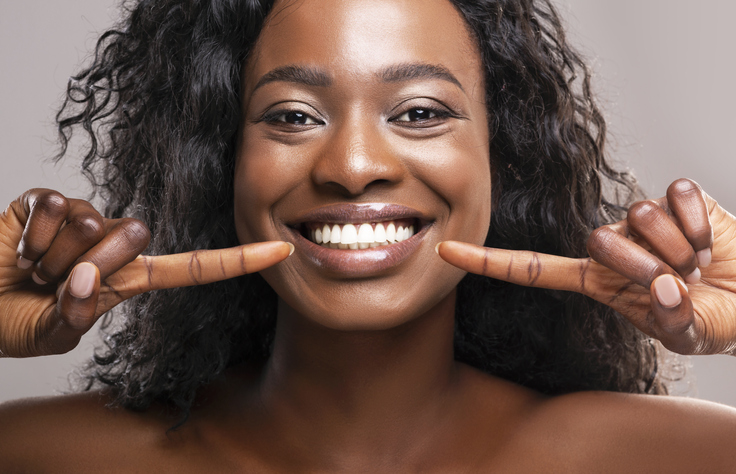 Do you dislike your smile because your gums are dark? Do you avoid a full smile because of the visible areas of hyperpigmentation? Your teeth may be healthy and a brilliant white, but discoloration of the gums can detract from your smile and reduce your confidence.
Fortunately, there is a simple procedure that can eliminate dark gums. Laser Gum Bleaching is one of our most requested cosmetic procedures at The Perio Group because it is quick, safe, and provides highly predictable results.
What Causes Darkened Gums?
Dark gums, known as gingival hyperpigmentation, are not necessarily a sign of a health problem. In most cases, discoloration is only a concern for aesthetic purposes. Most people seek treatment because they are embarrassed by the appearance of their gums. So, how do gums become discolored? Red, darkened, or splotchy gums can have several causes:
Poor oral hygiene: If you don't take good care of your teeth and gums, you may start to notice that your gums become red or inflamed. There is even the risk of permanent discoloration if you develop an infection that is severe or causes scarring.
Medications: Some prescribed medications affect the gum tissue and cause differences in pigmentation. If you continue to take the medication that caused the issue, you may need to have repeat laser gum bleaching treatments.
Ethnicity: Genetics and ethnicity also contribute to the likelihood of someone developing discolored gum tissue. People that have larger amounts of melanin are more prone to dark gums.
Lifestyle and habits: Tobacco use is another factor that can lead to gum discoloration. If you seek treatment to lighten your gums but continue to smoke or chew tobacco, the problem is likely to reoccur.
Not all causes of dark gums are within your control. However, your habits and choices can have a big impact on your oral health. Developing a good dental care routine along with a healthy lifestyle can make a positive difference.
How Does Laser Gum Bleaching Work?
Laser gum bleaching works because laser light energy is attracted to colors. This unique property is the reason lasers are frequently used to remove unsightly tattoos. Dental lasers are gentle and highly effective. This technique is safe and much less invasive than surgical methods to address dark gums.
Patients that choose laser gum bleaching can expect to see immediate results and enjoy a fast recovery. The results are long-lasting when you take proper care of your teeth and gums.
Before your procedure, Dr. Brown will conduct an exam to determine if you are a good candidate. He will look for signs of infection, thinning gums, and other concerns that may need correcting before you can undergo treatment. Most patients that have healthy gums can decide to have this procedure.
When it's time for your appointment, Dr. Brown applies a topical anesthetic for your comfort. You may discuss other options, such as local anesthesia if you are uncomfortable. Our team understands that a visit to the dentist can cause anxiety. Ask any questions you have and tell us if you are nervous in any way. We will do our best to help lessen your stress so you can relax during the procedure.
Once the anesthetic is working, Dr. Brown uses a Periolase laser to gently eliminate the darkened brown or black patches to create healthy pink gums with a more even appearance. The entire process typically takes between one and two hours. Some treatments are as little as 20 minutes. Most patients can return to work or their normal routine directly after the procedure.
Advantages of Laser Gum Bleaching
There are plenty of reasons why so many people with gum pigmentation issues opt for treatment. These benefits include:
Effective and consistent results that eliminate dark gum pigmentation to lighten your gums
No need for scalpels or stitches
Minimally invasive, with little or no discomfort during or after
Laser gum bleaching is accurate, effective, and safe
Rapid healing with highly predictable results
Little to no recovery time
Treatment by a skilled and friendly dental team
One visit is usually all it takes to produce a radiant smile
Laser gum bleaching was developed specifically to give patients a comfortable treatment option to remove dark patches. This technique is completely safe and a good option for most patients.
Aftercare and Prevention of Further Gum Discoloration
You may notice some temporary sensitivity to your gums after your depigmentation treatment. You should have no issues with your speech and can resume your normal routine immediately with no restrictions on what you can eat.
Take care of your gums afterward by adhering to a daily oral hygiene practice that includes brushing your teeth twice per day and flossing at least once. Pay attention to your diet. Try to limit the amount of sugar and alcohol you consume. Stop habits, such as tobacco use, that could cause your gums to darken once again. Finally, make sure to visit us at The Perio Group for your regular checkups at least twice per year.
Make Your Dream Smile a Reality
It's important to choose a periodontist that you trust and who has the expertise needed to provide high-quality care. Dr. Brown and The Perio Group offer exceptional patient care and the latest technologies and techniques. Your health and comfort are our priorities. We do everything we can to put you at ease during every visit to our office.
Our entire team is highly trained, knowledgeable, and committed to ensuring you have the best outcome possible for all your oral health needs. Dr. Brown has more than 40 years of experience and has won numerous awards and recognition both nationally and internationally. He has also been voted one of the area's top dentists by Philadelphia Magazine for 13 years.
Our office has a wide range of periodontal services from gum disease treatment to dental implants to cosmetic procedures like laser gum treatment. Get a smile you can be proud to show off. Call Dr. I. Stephen Brown of The Perio Group today to learn more and schedule your treatment. Our caring and dedicated dental team provide professional and efficient treatments that deliver excellent results.