Snooze News – Anxiety and Pain Free Dentistry in Philadelphia
What would it be like to be totally relaxed and pain free during your dental appointments — and not even remember them afterwards?
For years, many patients have feared the dental chair, putting off their dental care until severe problems develop, or beg to be knocked out for even routine procedures.
Trust Your Oral Health to Top Periodontist,
Dr. Stephen Brown.
"We treat the cause, not the symptom."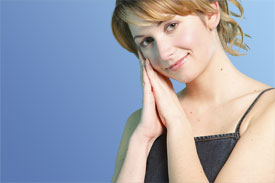 Today, just a few small pills is all it takes for the average 'anxious patient' to relax and receive safe, comfortable dental care while they drift comfortably, neither fully awake nor asleep. There's no need for intravenous needles or general anesthesia, and there's no anxiety or pain during even complicated procedures.
The medication in the pills has been used for many years as an aid to sleeping. With slight changes in dosage amounts and careful monitoring with modern operating room equipment, it is now used to help anxious patients relax through even the most demanding dental procedures.
Patients who are sedated in this manner are not asleep or immobilized; in fact, they can respond to questions during their treatment and remain aware of everything going on around them. However, they will experience no anxiety during or after the appointment, and most patients report having no memory of the procedure after it is over.
A physician anesthesiologist visited our office to skeptically observe Dr. I. Stephen Brown treat an anxious patient undergoing a lengthy dental procedure. He left amazed that such a gentle and safe method could accomplish so much. This method is especially suited for having most multiple necessary dental procedures done in a minimum number of visits.
If you, or anyone whom you care about, family or friends, would like to have any dental care done without pain or anxiety, we are eager to help. Our whole staff has been expertly trained to make each of your dental visits easy and comfortable, and to relieve you of any anxiety about your dental care.